The Rockcastle County Chamber of Commerce held its regular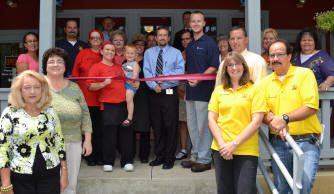 monthly membership meeting on July 19, 2011, at the Back Porch Smokehouse in Renfro Valley with guest speakers Michael Rodriguez, Director of the Small  Business Development Center at EKU and Danny Isaacs from the Mountain  Association for Community Economic Development (MACED).
Rodriguez provided chamber members with valuable information  regarding services offered by the Small Business Development Center (SBDC) at  Eastern Kentucky University. Services include business start-up procedures,  business and strategic plan development, financial resource development,  management support, record management, accounting systems, governmental  relations and marketing. He explained that planning and consulting services are  provided at no charge and training workshops are provided at little to no cost.   The center provides services in the counties of: Adair, Casey, Clinton, Estill,  Garrard, Jackson, Laurel, Lincoln, Madison, McCreary, Pulaski, Rockcastle,  Russell, Wayne and Whitley. For more information visit ekubiz.com.
Isaacs spoke with chamber members as to how MACED seeks to  help businesses that are committed to building sustainable and vibrant local economies in Appalachian Kentucky. MACED works with viable businesses that may  have trouble finding bank financing, but are contributing to the employment and  economic opportunities in the region. Loan products include equipment and real estate loans, working capital, operating  apital term loans and lines of credit.  For more information visit maced.org.
To conclude the meeting, the Rockcastle County Chamber of  Commerce conducted a ribbon cutting ceremony to welcome its newest member, the Back Porch Smokehouse, located in Renfro Valley.